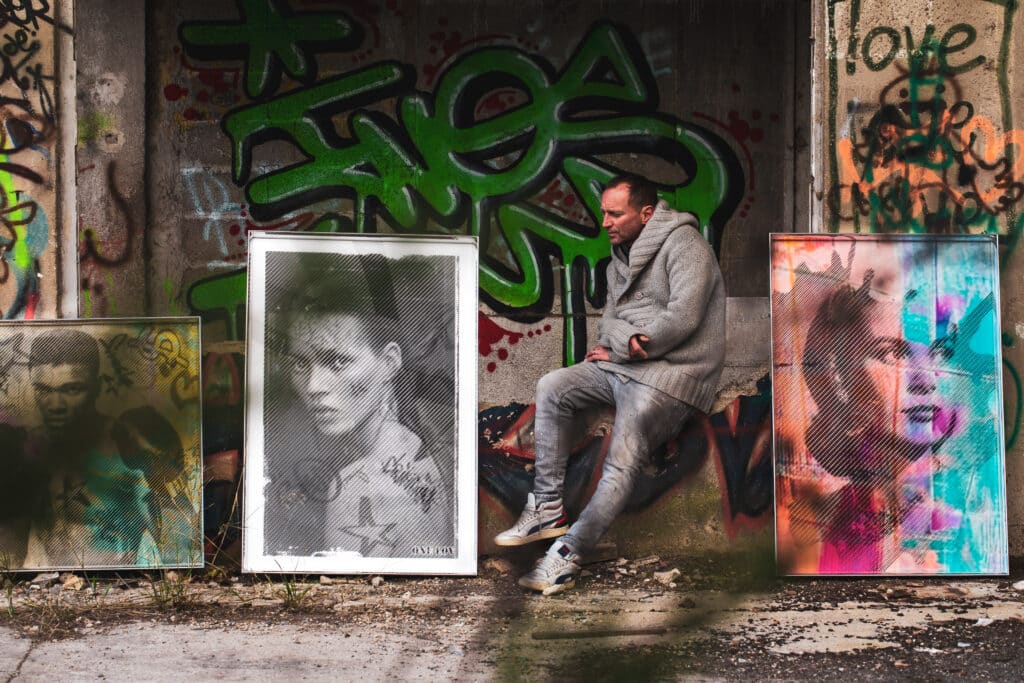 Born in the 1970s, originally from Aix-en-Provence, SØMA has been a visual artist for about ten years now, working with pixel art in all its forms.
SØMA's creations are first of all a tribute to his mother, a painter. He grew up in a stimulating artistic environment, strongly influenced by the work of Vasarely, who very early on awakened his artistic conscience during his visits to the museum dedicated to the artist in Aix-en-Provence. Rich of these experiences, SØMA feels the need to prolong the work transmitted while evolving with the times – hence his choice to explore new technologies that he uses to create his art.
Influenced by optical art (or Op Art), he incorporates Pop touches to his graphic creations. Each painting, whose identity is unique, is created on plexiglass plates (alone or superimposed) using an aerosol technique. From an image that he works digitally, the artist creates large stencils … The complete technique, the result of a long research work to achieve the perfect depth effect remains a secret!
It is a true contemporary craft of tones and shapes that SØMA honors. The optical game put forward, where parallel lines of varying thicknesses are associated and superimposed, offers the viewer's eye a wide palette of nuances both minimalist and explosive. SØMA presents a spectacle of alternately associated and dissociated lines, a game in which optical depth is key – all embodying an imposing three-dimensional energy.
The latter takes shape through the staging of the living. SØMA reappropriates and interprets through its palette popular icons or atypical faces with a poignant impact. The optical game created brings to life images inspired by magazine covers, emblematic photographs, but also significant and meaningful works by talented photographers.
In the making of his works, SØMA is particularly influenced by Street Art artists (Banksy, Invader, JR) but also by abstract art (notably Pierre Soulages), or other photographers such as Helmut Newton, Bettina Rheims through her work on the portrait that the artist likes to highlight. In short, through her art, SØMA pays tribute to her idols, to the iconic portraits that have made and still make society.
SØMA is a Faroese word that means "to beautify". It is these faces that the artist intends to highlight and celebrate.
SØMA is also a reference to SAMO, the first signature used by Jean-Michel Basquiat, whose work has greatly influenced his artistic path.
SØMA is a celebration of life in all its forms, making each painting unique.